Deborah Jones
Founding Partner
Deborah Jones
Founding partner of Radiant Media Collaborative, Jones  developed and Executive produced the award-winning series called The Team in Kenya, Côte d'Ivoire, Sierra Leone, Liberia, Morocco, Zimbabwe, Nepal, Pakistan, Angola, Indonesia, DR Congo, Ethiopia, Yemen, Tanzania and Myanmar. Most recently she developed and Executive produced Madam President for the Middle East and Madam Prime Minister in Nepal. Jones has enjoyed a successful career in television production on episodic series for major commercial networks in Hollywood. As a writer/producer, she created and produced the NBC television series, Amazing Grace, and has written numerous movies for Paramount, NBC, CBS, ABC and the cable networks. She holds a MALD from the Fletcher School of Law and Diplomacy.
Theo Smith
Smith has developed a keen ability to collaborate with business, NGO leaders as well as subject matter experts to create entertaining and engaging media. As a TV veteran, Smith's media has won numerous awards as producer/writer and editor for various commercial networks including; National Geographic, Discovery Channels, TLC, Animal Planet and A&E. Smith co-produced Inside Story, a scripted feature and Executive Produced the popular magazine style talk show series, Discovery +. Smith's ability to build audiences through innovative story-telling, market driven media solutions is unmatched. As project manager/producer, Smith was crucial in design and implementation of BridgeIT, a mobile phone initiative in Tanzania and T4 and dot.EDU, a multi-media initiative working in schools across India.
Theo Smith
Founding Partner
Seko Shamte
Senior Advisor East Africa
Founder and Managing Director of Alkemist Media, Seko Shamte has over 15 years of experience in Tanzanian media. As Head of Programming at East Africa Television (2005 – 2008) she oversaw shows such as 5 Live!, Ze Comedy, Friday Night Live and Nirvana.  Since she started Alkemist Media in 2008, she has been instrumental in getting Tanzanian stories on international television screens, producing news stories for CNN international, ABC  in the US and the BBC in the UK.  Mrs. Shamte has been a writer/producer/director on Mkwawa: Shujaa wa mashujaa a feature documentary telling the story of Chief Mkwawa of Uhehe (2011), The Team Tanzania, a 13-part television show, Jikoni na Marion , a 26 part, half-hour cooking show on DsTV channel 160 (2015) and is currently directing her first feature film, "Homecoming"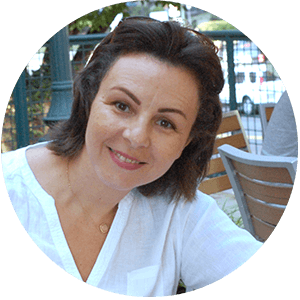 Ratiba Taouti Cherif
Senior Advisor – M&E
Taouti-Cherif has been supporting organizations understand their work, measure their results and learn from processes for the past 14 years. With organizations like UNICEF, Search for Common Ground and the International Rescue Committee (IRC) she provide leadership on design, monitoring and evaluation on a range of projects for which she also supported country offices and local partners in documenting and evaluating their work. She has been a consultant for FHI360, the World Bank, CARE International and Save the Children, delivering evaluations, assessments or M&E capacity-building services.
Taouti- Cherif has conducted field and desk research on the interface between knowledge, attitude, and behavior change.    She was instrumental in developing tools and approaches for measuring the results of SFCG's multi-country flagship TV episodic drama, The Team, with academic partners in the US and Europe.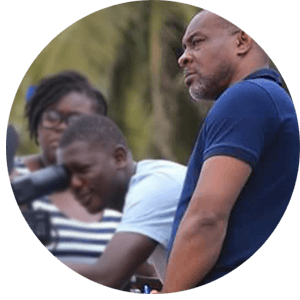 Jean-Noel Bah
Senior Advisor West Africa
With credits as a writer, producer and director, the multi-talented Jean-Noel Bah has become a dominant talent in the television market in West Africa.  Through his company Scenarii he directed and produced the 26-episode serial, "Conakry" which broadcast on Canal Plus as well as the 104 part series, "The Grin Season."   With Search for Common Ground, he wrote, produced and directed three seasons of L'Equipe, a half-hour series broadcast on RTI and CFI across Francophone Africa.   For UN agencies and PEPFAR, he has produced and directed multiple PSAs, short documentaries or media campaigns  to raise awareness on AIDS,  gender based violence,  polio prevention or water conservation. His work has been seen at FESPACO, the African Film Festival in Verona, Italy and in the Los Angeles Film Festival.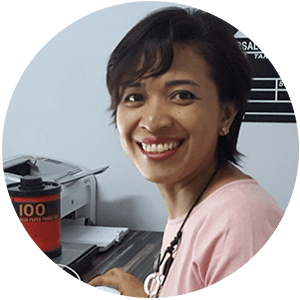 Rina Damayanti
Senior Advisor South Asia
Based in Indonesia, Damayanti has been a Producer and Program Director for Garin Ngoro's SET where she was the producer of Search for Common Grounds, "The Team" TV series. Damayanti established her own company, Padi Padi Creative developing and managing various media programs for national and international institutions, private and public partnerships. She's worked for Bloomberg TV Indonesia, Indonesia's  Corruption Eradication Commission, WWF Indonesia and Bank Central of Republic Indonesia. As an innovative filmmaker, Damayanti has produced many independent films, overseeing promotion, distribution and marketing. Her award winning films, The Mirror Never Lies and Mata Tertutup have screened at many international film festivals around the world.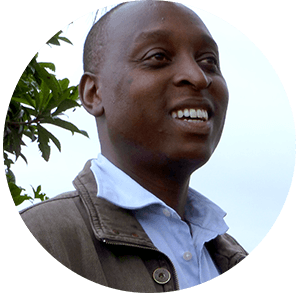 Mburugu Gikunda
East Africa Business Development
Gikunda began his broadcasting career at KTN where he produced current affairs programs and commercials.  As Head of Productions, he created and produced local productions including the launch of a new multiple format, multi-camera news hour.  As Country Director for Kenya's Media Focus on Africa Foundation he was responsible for fostering international partnerships and for the creation, management and implementation of large-scale media projects that engaged both commercial and civil society in Africa. He was the co- Executive Producer for the television series, The Team, a top ten series in Kenya broadcast on Citizen TV and across Sub-Saharan Africa on CFI and on Link TV in the US.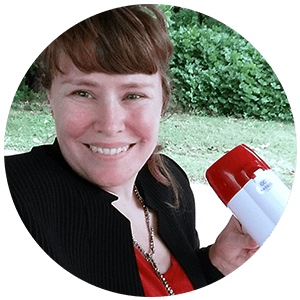 Heather Ratcliff
Social Media Outreach
Ratcliff is a web content and social media strategist advocating for human rights and social change. She works with nonprofits and businesses that have a social mission to help them get their message out. She has worked for the U.S. Holocaust Memorial Museum, The Advocacy Project, and has reported in Connecticut, New York, and briefly, Cambodia.
Credits